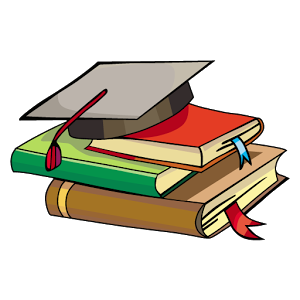 myCBSEguide App
CBSE, NCERT, JEE Main, NEET-UG, NDA, Exam Papers, Question Bank, NCERT Solutions, Exemplars, Revision Notes, Free Videos, MCQ Tests & more.
Install Now
CBSE class 10 English Communicative Question Papers as per the revised marking scheme and blue print issued by CBSE, New Delhi for March 2018 board examinations. There are total 58 chapter-wise solved practice papers covering fiction, poetry, drama and novels prescribed by CBSE for class 10 English Communicative students.
CBSE offers two courses in class 10 English:
English language and Literature
English communicative syllabus and text books are prepared by CBSE itself whereas for English Language and Literature, NCERT text books are prescribed. Here is the list of chapters in class 10 English Communicative.
List of Chapters
FICTION
Two Gentlemen of Verona
Mrs Packletides Tigers
The Letter
A Shady Plot
Patol Babu Film Star
Virtually True
DRAMA
The Dear Departed
Julius Caesar
POEM
The Frog and the Nightingale
Mirror
Not Marble nor the Gilded Monuments)
Ozymandias
The Rime of the Ancient Mariner
Snake
NOVEL
The Story of My Life
Diary of a Young Girl
Download Question Papers
Class 10 English Communicative question papers are available for download in PDF format in myCBSEguide app and website. Users can download and print these question papers. There are total 58 test papers. myCBSEguide has compiled them all as single ebook. Download all papers together and get attractive discounts.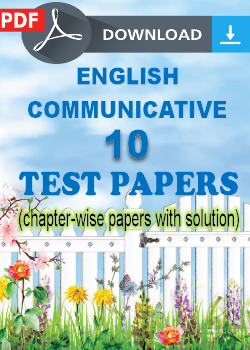 English Communicative Test Papers
Here is one test paper of class 10 English Communicative chapter-1. To download all test papers, visit myCBSEguide Shop.
CBSE TEST PAPER-01
Class – 10 English Communicative
(Two Gentlemen of Verona)
---
General Instruction: –
Question No. 1 to 6 carry four marks
Question No. 7 carry eight marks.
---
As we made the rounds, my interest was again provoked by their demeanour
(a) What is so special in the appearance of the two boys?
(b) Why did the author get provoked?
(c) How can you successfully replace the word 'demeanour'?
(d) Who made the rounds and for what purpose?
There was a pause. Nicola was glaring at his young brother in vexation. "We could not think of troubling you, sir."
(a) Why was there a pause?
(b) Why did Nicola glare at his younger brother?
(c) Why should he glare at him in vexation?
(d) How did the narrator solve this delicate situation?
Why did the narrator blink on looking at the pleasant looking woman?
What made Nicola to grew pale and look down the ground?
Discuss the importance and significance of "Poleta" for the two boys?
What is the need for the boys to hide the reason for their hard earning?
Compare and contrast the character traits of Nicola and Jacopo?
CBSE TEST PAPER-01
Class – 10English Communicative
(Two Gentlemen of Verona)
(Answers)
---
The two boys look so thin, shabby with worn out clothes but striving hard to earn money
The narrator got provoked due to the curiosity of understanding the need for the earning and hard work of the boys.
Character or Manner or Behaviour or Appearance or conduct (any other suitable word)
The narrator and his companion went on rounds to explore the place.
There was a pause as they had created a delicate situation for the narrator.
He glared at his younger brother as he asked for a help from the narrator.
He glared at him in vexation because their request literally had created the trouble of driving the car by the narrator himself as he had given leave for his driver Luigi.
The narrator was kind enough to drive them all by himself.
The narrator blinked as he saw a pleasant looking woman with steel-rimmed spectacles because she was dressed in the white uniform of a trained nurse. This brought a sudden element of surprise and dismay to the narrator as he finally realized that he brought those kids to the Hospital.
Nicola coloured deeply under his sunburn, then grew pale and looked down the ground because of the embarrassing question that was asked by the narrator. He questioned the need for the hard earning of the money as they were not found spending any of them for even their basic needs.
 The two boys felt that that visiting Poleta every Sunday which is situated 30 Kms from Verona is more important in their life because they got only one day to visit their sister who is admitted in a hospital at Poleta for getting treated for her tuberculosis of the spine.
The boys felt that they should keep it a secret for they do not want people to look them down or feel sorry for their condition. As per the narrator, Nicola and Jacopo are the Two Gentlemen of Verona for their attitude towards life because even war could not break their spirit. They brought new mobility to human life by their selfless actions and gave promise of greater hope for the human society.
Nicola is the elder brother who is 13 years and Jacopo is the younger one who is 12 years old. Though they both had common goals and responsibilities, Nicola was more of a strong personality whereas Jacopo showed little tolerance towards the ordeals of the work. This was quite evidential when Jacopo asked the narrator to drop them in his car while Nicola hesitated to open his mouth. Nicola apologized on behalf of his brother for troubling the narrator which shows the contrast between the two brothers. Moreover, Nicola used to be more contented in his communication with people around but the little brother Jacopo used to loiter around the streets of Verona without considering the fact that strangers might get to know their secret. But, the narrator was kind enough to help the boys which made his the discover that they were the true "Gentlemen of Verona"
---

Test Generator
Create question papers online with solution using our databank of 5,00,000+ questions and download as PDF with your own name & logo in minutes.
Create Now
---