| | |
| --- | --- |
| Subscribe complete study pack at ₹12.5/- per month only. | Subscribe |
| Install the best mobile app for CBSE students. | Install App |
Creating unique question papers with the solution, it takes lots of time and energy. Experts take 6-8 hours to create one question paper (30 questions) with the solution. Even an average unit test bearing 10-12 questions takes more than 2 hours to complete. But not more !! myCBSEguide offers you test-generator that can create question paper with solution in just 2 minutes. This is all with your own name and logo.
Create Question Papers in 2 Minutes
Creating a unique question paper every time is very difficult. Nobody can remember which question is already given in the previous exam. Our test generator does it for you. You can create any number of unique question papers with the help of myCBSEguide test generator. It's faster than preparing Maggi for your kids.
Your Name and Logo
myCBSEguide's online question paper creator gives you the option to create question papers with our own logo and name. Simply add your school/coaching name on the top, add your logo and insert footer to display on all pages and then start adding questions to your question paper.
Create papers with few mouse clicks
No special knowledge of computer is required to generate question papers. If you know how to operate the mouse, you can create a question paper with the help of your test generator. It works well on tablets and mobile phones too.
Create Papers on Mobile Phone
Our test generator works very well on mobile phones and tablets too. Even it works better in mobile as compare to the desktop as it gives you the option to add your logo using your mobile camera. You can create the papers on a mobile phone and share it via email or WhatsApp to print.
Future-ready Service Updated regularly
We add around 10,000 new questions to our database every month. So, whenever you create a question paper, you will get new questions to add. No only new questions, we review and revise our database at regular intervals. So that you can get questions as per the latest syllabus.
Download Sample Papers 2019
myCBSEguide offers sample papers and previous year papers to download in form of PDF through website and Mobile App. These sample papers are designed as per the latest CBSE syllabus and marking scheme for session 2018-19.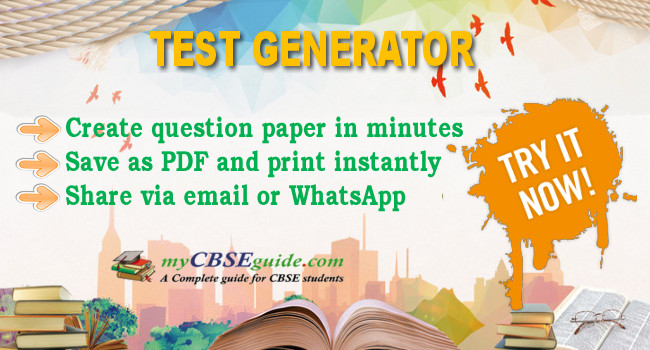 | | |
| --- | --- |
| Subscribe complete study pack at ₹12.5/- per month only. | Subscribe |
| Install the best mobile app for CBSE students. | Install App |