CBSE - Class 12 - Physics - Dual Nature of Radiation and Matter - NCERT Exemplar Solutions
NCERT Exemplar Solutions for Physics Dual Nature of Radiation and Matter
Student Subscription
Unlock the exclusive content designed for the toppers
We will update content for this category shortly. Please visit this category after few days or subscribe to our newsletter by email for latest updates
NCERT Exemplar Solutions for class 12 Physics Dual Nature of Radiation and Matter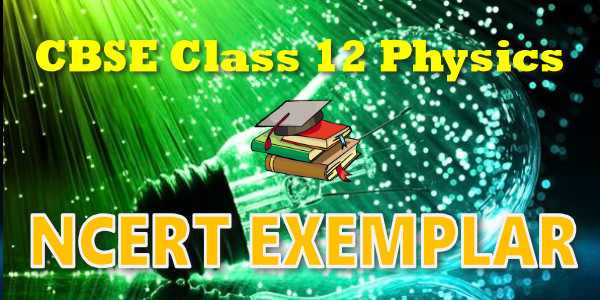 NCERT 12 Physics Exemplar Problem Text book Solutions
NCERT 12th class Physics exemplar book solutions for chapter Dual Nature of Radiation and Matter are available in PDF format for free download. These ncert exemplar problem book chapter wise questions and answers are very helpful for CBSE board exam. CBSE recommends NCERT exemplar problem books and most of the questions in CBSE exam are asked from NCERT text books. Class 12 Physics chapter wise NCERT exemplar solution for Physics part 1 and Physics part 2 for all the chapters can be downloaded from our website and myCBSEguide mobile app for free.
NCERT Exemplar Problem and Solutions for class 12 Physics
NCERT Exemplar Problems Solutions
NCERT Exemplar Problems Solutions (PDF Download) Free
NCERT Exemplar Problems Solutions for Class 12 Physics PDF
NCERT Exemplar Problems Class 12 Physics - CBSE
NCERT Exemplar Problems-Solutions PHYSICS class 12th
NCERT Exemplar Problems Solutions for Class 12 Physics
NCERT BOOK Class 12 Physics Exemplar PDF Download
NCERT Exemplar Problems class 12 Physics
NCERT Class 12 Physics Chapter-wise Exemplar Solutions
Chapter 1 - Electric Charges and Fields
Chapter 2 - Electrostatic Potential and Capacitance
Chapter 3 - Current Electricity
Chapter 4 - Moving Charges and Magnetism
Chapter 5 - Magnetism and Matter
Chapter 6 - Electromagnetic Induction
Chapter 7 - Alternating Current
Chapter 8 - Electromagnetic Waves
Chapter 9 - Ray Optics and Optical Instruments
Chapter 10 - Wave Optics
Chapter 11 - Dual Nature of Radiation and Matter
Chapter 12 - Atoms
Chapter 13 - Nuclei
Chapter 14 - Semiconductor Electronic: Material, Devices and Simple Circuits
Chapter 15 - Communication Systems
CBSE class 12th Physics have three books. Each book has chapters and topics.
NCERT Physics Book Class 12 Part-1
NCERT Physics Book Class 12 Part-2
NCERT Exemplar Problem book for class 12 Physics
Here is the list of topics covered under each chapter of class 12 Physics NCERT text book.
NCERT Exemplar Problem book and Solutions for Class 12th Physics
NCERT exemplar problem book and Solutions Class 12 Physics PDF (Download) Free from myCBSEguide app and myCBSEguide website. Ncert solution class 12 physics includes text book solutions from both part 1 and part 2. NCERT Solutions for CBSE Class 12 Physics have total 15 chapters. Class 12 Physics ncert exemplar problem and Solutions in pdf for free Download are given in this website. Ncert physics class 12 exemplar solutions PDF and physics ncert class 12 PDF exemplar problems and solutions with latest modifications and as per the latest CBSE syllabus are only available in myCBSEguide.
CHAPTER ELEVEN DUAL NATURE OF RADIATION AND MATTER
11.1 Introduction
11.2 Electron Emission
11.3 Photoelectric Effect
11.4 Experimental Study of Photoelectric Effect
11.5 Photoelectric Effect and Wave Theory of Light
11.6 Einstein's Photoelectric Equation: Energy Quantum of Radiation
11.7 Particle Nature of Light: The Photon
11.8 Wave Nature of Matter
11.9 Davisson and Germer Experiment
NCERT Exemplar Problems & Solutions
NCERT exemplar text books are available in NCERT official website for free download. To download sample paper for class 12 Physics, Chemistry, Biology, History, Political Science, Economics, Geography, Computer Science, Home Science, Accountancy, Business Studies and Home Science; do check myCBSEguide app or website. myCBSEguide provides sample papers with solution, test papers for chapter-wise practice, NCERT solutions, NCERT Exemplar solutions, quick revision notes for ready reference, CBSE guess papers and CBSE important question papers. Sample Paper all are made available through the best app for CBSE students and myCBSEguide website.