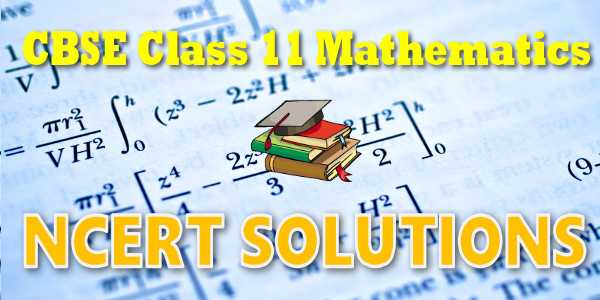 NCERT Solutions Chapter 12 Introduction to Three Dimensional Geometry
You may recall that to locate the position of a point in a plane, we need two intersecting mutually perpendicular lines in the plane. These lines are called the coordinate axes and the two numbers are called the coordinate of the point with respect to the axes. In actual life, we do not have to deal with points lying in a plane only. For example, consider the position of an aeroplane as it flies from one place to another at different times during its flight.
NCERT Solutions for Class 11th Mathematics
NCERT Solutions Class 11 Mathematics PDF (Download) Free from myCBSEguide app and myCBSEguide website. Ncert solution class 11 Mathematics includes text book solutions from book. NCERT Solutions for CBSE Class 11 maths have total 15 chapters. Class 11 Mathematics ncert Solutions in pdf for free Download are given in this website. Ncert Mathematics class 11 solutions PDF and Mathematics ncert class 11 PDF solutions with latest modifications and as per the latest CBSE syllabus are only available in myCBSEguide. NCERT 11 Mathematics Text book Solutions.
NCERT Solutions for Class 11