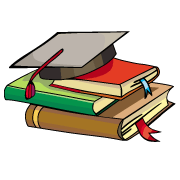 CBSE, JEE, NEET, CUET
Question Bank, Mock Tests, Exam Papers
NCERT Solutions, Sample Papers, Notes, Videos
Posted by Tushar Ghosh 9 months, 2 weeks ago
When a ray of light falls on a smooth and shiny surface, the whole of light is sent back in the same direction. It is called reflection. Mirrors do not allow even a small amount of light to pass through them. Mirrors show regular and complete reflection.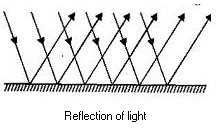 When all the parallel rays reflected from a plane are not parallel, the reflection is diffused or irregular. This is not violation of law of reflection, the reason for diffused reflection is due to irregularities in the reflecting surface.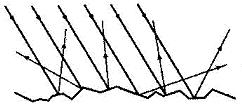 The phenomenon in which the light changes it's direction when it falls on a smooth and shiny surface .This is called as reflection .
Posted by Tokeshwar Singh 1 year ago
Posted by Krishna Kumar 1 year, 6 months ago
Posted by Mangal Shukla 2 years, 7 months ago
Posted by Avreet Kaur Kaur 10 months ago
Posted by Aashi Rai 11 months, 1 week ago
Posted by Tushar Ghosh 9 months, 2 weeks ago
Posted by Piyush Salunkhe 2 years, 9 months ago
Posted by J J 1 year, 9 months ago
Posted by Rik Debnath 10 months, 2 weeks ago
Posted by Jayesh Kathale 2 years, 10 months ago