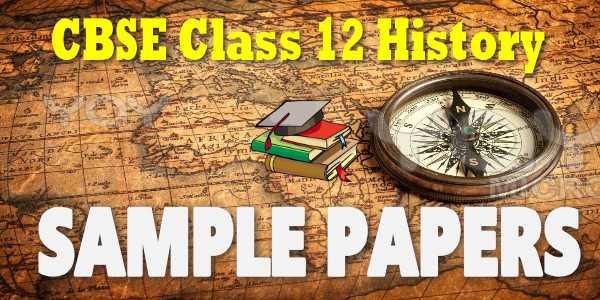 Latest History Sample paper with Solution 2019
Download best sample papers for XII History CBSE annual exam with fully solved question papers. CBSE class 12th History sample paper gives an idea of question paper pattern and marking scheme. Class 12 History Part I have 4 Chapters, History Part II have 5 Chapters and History Part III has 6 chapters. The annual exam sample paper for History will comprise questions from all chapters given in CBSE class 12 NCERT textbook. CBSE follows NCERT syllabus in class 12 board exams. Class 12 History has two NCERT books. We provide History sample paper with the solution which includes questions from all the chapters. Central Board of Secondary Education, New Delhi issues sample question papers for all major subjects. Class 12 History sample questions papers help students to prepare for board exams well in advance. The student can download CBSE sample papers for class 12 and practice the questions at home. History sample paper has questions from NCERT class 12 History book, NCERT help book, CBSE books for class 12 History and other textbooks prescribed by CBSE for the class XII History exam. Sample paper for class 12 History and other subjects are available for download as PDF in the app too. myCBSEguide provides sample paper with solutions for the year 2018, 2019, 2020.
Best Collection of 12 History Sample Papers 2018-19
History sample paper for 2017 board exam
Class 12 Sample paper in History for 2018
2018 sample paper for 12 History
CBSE History sample papers for 2018 and 2019
Sample papers for session 2018-2019
CBSE Sample Papers for Class 12 History
Class 12 History sample paper
Guess paper class 12 History
Model test paper series for 12th
Sample paper of class 12
Sample paper of History class 12
New sample paper for class 12
Latest sample paper for class 12
12th NCERT physic Sample Papers
Class 12 History Latest Question Paper Design
The design of History question paper for class 12 is finalized by CBSE, New Delhi. The board issues sample papers for each subject on the basis the final design every year. Here are the basic facts you must know about CBSE class 12 sample papers:
Download CBSE sample paper for class 12 History from myCBSEguide. Class 12 sample paper of History for board exams are available for download in myCBSEguide app, the best app for CBSE students. Sample Paper class 12 History includes questions from History Part-I, II and III (Published by NCERT), Laboratory Manual of History (Published by NCERT), The list of other related books and manuals brought out by NCERT (consider multimedia also). CBSE conducts board exam for CBSE students which will cover the whole book.
Sample papers for class 12th CBSE 2019