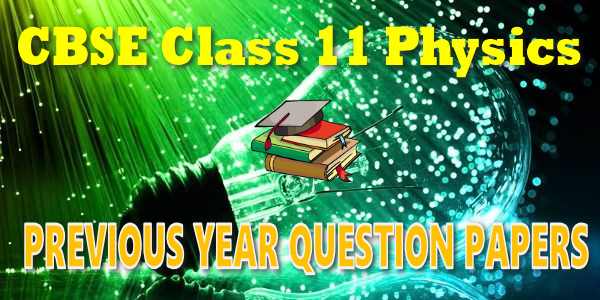 CBSE Physics questions papers
CBSE last year papers for class 11 Physics and Last Year Question Paper & Solutions of 10+1 Physics are made available by CBSE every year just after the annual exams are over. CBSE marking scheme and blue print is provided along with the previous year question paper. This helps students find answer the most frequently asked question, How to prepare for CBSE exams. The best way to prepare for annual exams is to understand the questions pattern and practice them as given in previous year question papers.
ncert question papers
solved question papers for class 11
cbse question papers for class 11 with answers 2018
cbse question paper
CBSE Question Paper for Class 11 – Physics– 2018, 2017, 2016
last 5 years question papers of cbse 11th Physics
cbse previous year question papers class 11 solved
cbse last year papers
cbse old question papers class 11 Physics
last 5 years question papers of cbse 11th Physics
Question papers of class 11 Physics
CBSE class 11 Question Paper for Physics for the year 2018, 2017, 2016, 2015 with solutions in PDF format for free download. The previous year question papers last 10 year for all – NCERT books and based on CBSE latest syllabus must be downloaded and practiced by students. These old 5 to 10 year question papers are the best source to understand question paper pattern and chapter wise weightage in class 11th Physics question paper.
Class 11 Physics List of Chapters NCERT Book
Chapter 1 - Physical World
Chapter 2 – Units and measurement
Chapter 3 – Motion in a straight line
Chapter 4 – Motion in a plane
Chapter 5 – Laws of motion
Chapter 6 – Work energy and power
Chapter 7 – System of particles of rotational motion
Chapter 8 - Gravitation
Chapter 9 – Mechanical Properties of solids
Chapter 10 - Mechanical Properties of fluids
Chapter 11 – Thermal Properties of Matters
Chapter11 - Thermodynamics
Chapter 13 – Kinetic theory
Chapter 14 – Oscillation
Chapter 15 - Waves
CBSE Question Papers for Class 11
CBSE question papers 2018, 2017, 2016, 2015, 2014, 2013, 2012, 2011, 2010, 2009, 2008, 2007, 2006, 2005 and so on for all the subjects are available under this download link. Practicing real question paper certainly helps students to get confidence and improve performance in weak areas.
To download sample paper for class 11 Physics, Chemistry, Biology, History, Political Science, Economics, Geography, Computer Science, Home Science, Accountancy, Business Studies and Home Science; do check myCBSEguide app or website. myCBSEguide provides sample papers with solution, test papers for chapter-wise practice, NCERT solutions, NCERT Exemplar solutions, quick revision notes for ready reference, CBSE guess papers and CBSE important question papers. Sample Paper all are made available through the best app for CBSE students and myCBSEguide website