CBSE - Class 11 - Biology - Breathing and Exchange of Gases - NCERT Exemplar Solutions
NCERT Exemplar Solutions for Biology Breathing and Exchange of Gases
Student Subscription
Unlock the exclusive content designed for the toppers
We will update content for this category shortly. Please visit this category after few days or subscribe to our newsletter by email for latest updates
NCERT Exemplar Solutions for class 11 Biology Breathing and Exchange of Gases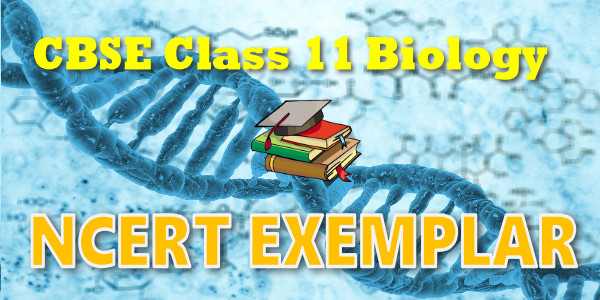 NCERT 11 Biology Exemplar Problem Text book Solutions
NCERT 11th class Biology exemplar book solutions for chapter 17 Breathing and Exchange of Gases are available in PDF format for free download. These ncert exemplar problem book chapter wise questions and answers are very helpful for CBSE board exam. CBSE recommends NCERT exemplar problem books and most of the questions in CBSE exam are asked from NCERT text books. NCERT 11 Biology Exemplar Problem Text book Solutions. Class 11 Biology chapter wise NCERT exemplar solution for Biology part 1 and all the chapters can be downloaded from our website and myCBSEguide mobile app for free.
NCERT Exemplar Problem and Solutions for class 11 Biology
NCERT Exemplar Problems Solutions
NCERT Exemplar Problems Solutions (PDF Download) Free
NCERT Exemplar Problems Solutions for Class 11 Biology PDF
NCERT Exemplar Problems Class 11 Biology - CBSE
NCERT Exemplar Problems-Solutions BIOLOGY class 11th
NCERT Exemplar Problems Solutions for Class 11 Biology
NCERT BOOK Class 11 Biology Exemplar PDF Download
NCERT Exemplar Problems class 11 Biology
NCERT Class 11 Biology Chapter-wise Exemplar Solutions
Chapter 1 : The Living World
Chapter 2 : Biological Classification
Chapter 3 : Plant Kingdom
Chapter 4 : Animal Kingdom
Chapter 5 : Morphology of Flowering Plants
Chapter 6 : Anatomy of Flowering Plants
Chapter 7 : Structural Organisation in Animals
Chapter 8 : Cell : The Unit of Life
Chapter 9 : Biomolecules
Chapter 10 : Cell Cycle and Cell Division
Chapter 11 : Transport in Plants
Chapter 12 : Mineral Nutrition
Chapter 13 : Photosynthesis in Higher Plants
Chapter 14 : Respiration in Plants
Chapter 15 : Plant Growth and Development
Chapter 16 : Digestion and Absorption
Chapter 17 : Breathing and Exchange of Gases
Chapter 18 : Body Fluids and Circulation
Chapter 19 : Excretory Products and their Elimination
Chapter 20 : Locomotion and Movement
Chapter 21 : Neural Control and Coordination
Chapter 22 : Chemical Coordination and Integration
Here is the list of topics covered under each chapter of class 11 Mathematics NCERT text book.
NCERT Exemplar Problem book and Solutions for Class 11th Biology
NCERT exemplar problem book and Solutions Class 11 Biology PDF (Download) Free from myCBSEguide app and myCBSEguide website. Ncert solution class 11 Biology includes text book solutions from both book. NCERT Solutions for CBSE Class 11 Biology have total 22 chapters. Class 11 Biology ncert exemplar problem and Solutions in pdf for free Download are given in this website.NCERT 11 Biology Exemplar Problem Text book Solutions. Ncert Biology class 11 exemplar solutions PDF and Biology ncert class 11 PDF exemplar problems and solutions with latest modifications and as per the latest CBSE syllabus are only available in myCBSEguide.
Chapter 17 : Breathing and Exchange of Gases
17.1 Respiratory Organs
17.2 Mechanism of Breathing
17.3 Exchange of Gases
17.4 Transport of Gases
17.5 Regulation of Respiration
17.6 Disorders of Respiratory System
NCERT Exemplar Problems & Solutions
NCERT exemplar text books are available in NCERT official website for free download. To download sample paper for class 11 Physics, Chemistry, Biology, History, Political Science, Economics, Geography, Computer Science, Home Science, Accountancy, Business Studies and Home Science; do check myCBSEguide app or website. myCBSEguide provides sample papers with solution, test papers for chapter-wise practice, NCERT solutions, NCERT Exemplar solutions, quick revision notes for ready reference, CBSE guess papers and CBSE important question papers. Sample Paper all are made available through the best app for CBSE students and myCBSEguide website.