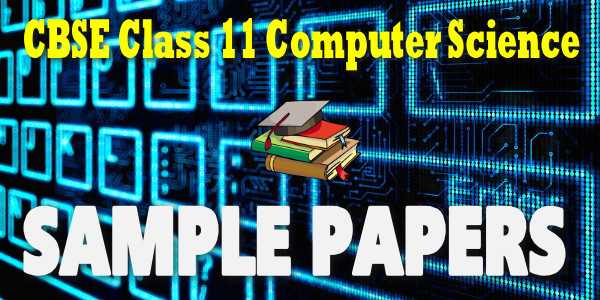 Best Collection of 11 Computer Science Sample Papers PDF 2018
Computer Science sample paper for 2018 exam
Class 11 Sample paper in Computer Science for 2018
2018 sample paper for 11 Computer Science
CBSE Computer Science sample papers for 2018 and 2019
Sample papers for session 2018-2019
CBSE Sample Papers for Class 11 Computer Science
Class 11 Computer Science sample paper
Guess paper class 11 Computer Science
Model test paper series for 11th
Sample paper of class 11
Sample paper of Computer Science class 11
New sample paper for class 11
Latest sample paper for class 11
11th NCERT computer science Sample Papers
Class 11 Sample paper in computer science for 2018 (solved)
Class 11 Computer Science
CBSE follows NCERT text book in class 11 Computer Science. Here is the list of chapters in NCERT class 11 Computer Science. The sample question paper with solution for class 11 Computer Science is prepared as per these NCERT text book chapters. Computer Science sample papers and annual exam question papers of class 11 Computer Science are based on these chapters only.
NCERT Class 11 Computer science all Chapters
Unit 1: Computer Fundamentals
Chapter 1: Classification of Computers
Chapter 2: Software Concepts
Chapter 3: System Software
Chapter 4: Operating System
Chapter 5: Utility Software
Chapter 6: Open Source Concepts
Chapter 7: Application Software
Chapter 8: Number System
Chapter 9: Internal Storage encoding of Characters
Chapter 10: Microprocessor
Chapter 10: Microprocessor
Chapter 12: Primary Memory
Chapter 13: Secondary Memory
Chapter 14: Input Output Ports/ Connections
Unit 2: Programming Methodology
Chapter 15: General Concepts
Chapter 16: Problem solving methodologies
Chapter 17: Problem Solving
Unit 3: Introduction to Python
Chapter 18: Getting Started
Chapter 19: Mutable and Immutable Variables
Chapter 20: Variables, Expressions and Statements
Chapter 21: Functions
Chapter 22: Defining functions
Chapter 23: Conditional constructs and looping
Unit 3: Introduction to C++
Chapter 24: Getting Started
Chapter 25: Data Types, Variables and Constants
Chapter 26: Operator and Expressions: Operators
Unit 4: Programming with Python
Chapter 27: Strings
Chapter 28: Lists
Chapter 29: List operations
Chapter 30: List functions and methods
Chapter 31: Dictionaries
Chapter 32: Dictionary functions and methods
Chapter 33: Tuples
Chapter 34: Tuple Functions
Unit 4: Programming In C++
Chapter 35: Flow of control
Chapter 36: Inbuilt Functions
Chapter 37: Introduction to user-defined function and its requirements
Chapter 38: Structured Data Type
Download Solved Sample papers for class 11
To download sample paper for class 11 Physics, Chemistry, Biology, History, Political Science, Economics, Geography, Computer Science, Home Science, Accountancy, Business Studies and Home Science; do check myCBSEguide app or website. myCBSEguide provides sample papers with solution, test papers for chapter-wise practice, NCERT solutions, NCERT Exemplar solutions, quick revision notes for ready reference, CBSE guess papers and CBSE important question papers. Sample Paper all are made available through the best app for CBSE students and myCBSEguide website.