CBSE Revision Notes for Class 10 English Communicative
CBSE Revision Notes for class 10 English Communicative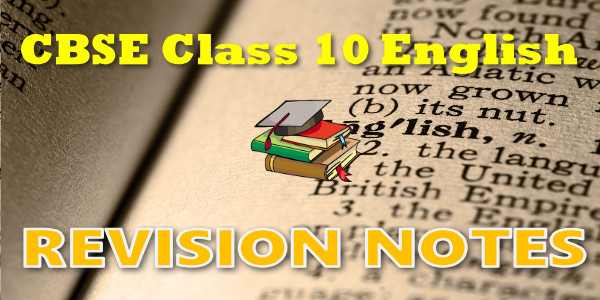 CBSE revision notes for class 10 English Communicative NCERT chapter wise notes of 10th English Communicative CBSE key points and chapter summary for 10 English Communicative all chapters in PDF format for free download. CBSE short key notes and chapter notes for revision in exams. CBSE short notes of 10th class English Communicative. Summary of the chapter for class 10 English Communicative are available in PDF format for free download. These NCERT notes are very helpful for CBSE exam. CBSE recommends NCERT books and most of the questions in CBSE exam are asked from NCERT text books. These notes are based on latest NCERT syllabus and designed as per the new curriculum issued by CBSE for this session. Class 10 English Communicative chapter wise NCERT note for English Communicative part and English Communicative for all the chapters can be downloaded from website and myCBSEguide mobile app for free.
CBSE Class 10 Notes and Key Points
CBSE Revision notes (PDF Download) Free
CBSE Revision notes for Class 10 English Communicative PDF
CBSE Revision notes Class 10 English Communicative – CBSE
CBSE Revisions notes and Key Points Class 10 English Communicative
Summary of the NCERT books all chapters in English Communicative class 10
Short notes for CBSE class 10th English Communicative
Key notes and chapter summary of English Communicative class 10
Quick revision notes for CBSE exams
CBSE Class 10 English Communicative Chapter-wise Revision Notes
PROSE
Chapter 1- Two Gentlemen of Verona
Chapter 2- Mrs Packletide's Tiger
Chapter 3- The Letter
Chapter 4- A Shady Plot
Chapter 5- Patol Babu, Film Star
Chapter 6- Virtually True
POETRY
Chapter 1-The Frog And Nightingale
Chapter 2- Mirror
Chapter 3- Not Marble, Nor The Gilded Monuments
Chapter 4- Ozymandias
Chapter 5- The Rime of the Ancient Mariner
Chapter 6- Snake
DRAMA
Chapter 1- The Dear Departed
Chapter 2- Julius Caesar
Main Course Book
Chapter 1-Health and Medicine
Chapter 2-Education
Chapter 3-Science
Chapter 4-Environment
Chapter 5-Travel and Tourism
Chapter 6-National Integration
Free Download of CBSE Class 10 Revision Notes
Key Notes for CBSE Board Students for Class 10 Important topics of all subjects are given in these CBSE notes. These notes will provide you overview of the chapter and important points to remember. These are very useful summary notes with neatly explained examples for best revision of the book.
CBSE Class-10 Revision Notes and Key Points
CBSE class-10 Key points and summary of the lessons is given under this section for Science, Mathematics, Hindi, English, Social Science and other subjects. The notes includes all concepts given in NCERT books and syllabus issued by CBSE for class-10. Key notes are 'to the point' capsules for quick revision of the chapter. We have covered the whole syllabus in these notes.
Two Gentlemen of Verona
By - A J Cronin
---
This is the story of two young boys named, Nicola and Jacopo, who lived in Verona, Italy. They were brothers. They were 13 and 12 years respectively.
The narrator met the boys at the outskirts of Verona and he bought a box of wild strawberries from them.
They were dressed in odd clothes and looked shabby.
The narrator found them undertaking different jobs to earn a living.
The boys polished shoes, sold newspapers, and did many other jobs to earn money.
They also took the tourists to the places of their interest-to Juliet's tomb in and around Verona.
They were very helpful to the narrator and his driver Luigi as they could buy a packet of American cigarettes or arrange seats for the opera.
The narrator and his companion were impressed at the attitude of the boys to take up any job without any complaint.
He and his partner wondered what these boys must be doing with all the money they earned.
When the narrator was leaving Verona on Monday, he asked if he could do anything for them before going.
The younger brother Jacopo asked the narrator if he could drive them to their village which was 30 miles from Verona.
The narrator's driver Luigi had the Sunday off but the narrator drove them himself to Poleta.
They leaped out from the car before a large red-roofed villa and promised to come back within an hour.
The narrator could not resist his curiosity, so he followed the boys and there he discovered that the villa was actually a hospital. A nurse briefed him the story of the two boys which was equally surprising.
Nicola and Jacopo lived a comfortable and cultured life with their father and elder sister.
Their widower father was a well-known singer and was killed in the war against Germany.
During the war, a bomb blast made them homeless and they were left in the streets with their only elder sister Lucia.
The children had a tough time reestablishing their house and when they heard about the Resistance movement, they secretly joined the same, leaving their sister behind.
After the war, they returned home and found that their sister suffering from tuberculosis of the spine.
They did not give up. They decided to admit their sister in a nursing home and take care of her in every possible way.
The narrator did not want to intrude into the privacy of the boys hence, he did not meet the boys and their sister in the hospital. He waited for them outside till the boys rejoined him.
He was all the more impressed by the integrity, dedication and diligence of the boys. He preferred not to embarrass them by questioning about their private ife which they never shared with outsiders.
He ended up the story with the hope that the selfless action of the boys brought a new nobility to human life and it was a greater hope for the entire humanity.
He liked the gentlemanly qualities of the boys and called them the two gentlemen of Verona.