CBSE Value Based Questions class 12 Economics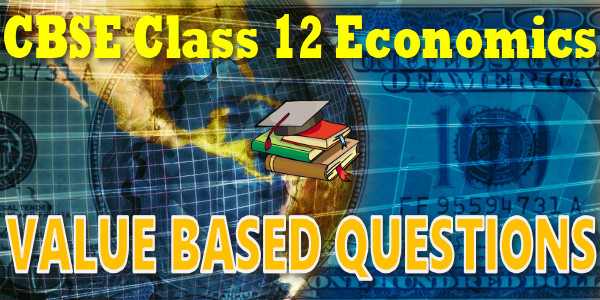 Class 12th Economics CBSE Value Based Questions in for free download in PDF format. The most CBSE Value Based Questions for annual examination from are given here for download. The additional questions for practice from XII class CBSE exam are collected from various sources. It includes questions asked in previous year exams, questions provided by Kendriya Vidyalaya KV schools, DoE, Delhi government school, Navodaya Vidyalaya samiti NVS and other government and private schools in India and abroad that are affiliated to CBSE, New Delhi. Class 12 Economics have different set of questions. The questions includes 1 mark questions, 2 mark questions, 3 mark questions, 4 mark questions, 5 mark questions and other questions as per the latest CBSE curriculum for the current session.
Chapter Wise CBSE Value Based Questions Class 12 Economics
CBSE Value Based Questions, guess papers, most expected questions and best questions from 12th Economics have CBSE chapter wise CBSE Value Based Questions with solution for free download in PDF format. 12th Economics have many topics. All these topics are included in CBSE chapter wise Value Based Questions of class 12 Economics.
Economics Solved CBSE Value Based Questions for 12th Chapter Wise CBSE
Class XII Economics NCERT book, refresher books and other reference books have many CBSE Value Based Questions. These questions are repeatedly asked in exams in one or other way round. Practicing such most CBSE Value Based Questions certainly help students to get good marks in exams. The solved question papers from have all type of questions may be asked in annual exams such as VSA very short answer type questions, SA short answer type questions, LA long answer type questions, VBA value based questions and HOTS higher order thinking skill based questions.
NCERT Class 12 Economics Chapter-wise Solutions
Microeconomics
Introductions
Theory of Consumer Behavior
Production and Costs
The Theory of the Firm under Perfect Competition
Market Equilibrium
Non-Competitive Markets
Macroeconomics
Introduction
National Income Accounting
Money and Banking
Income Determination
The Government Functions and Scope
Open Economy Macroeconomics
CBSE Value Based Questions and Answers for CBSE Exams
MICRO ECONOMICS
Ques1. In an underdeveloped economy why there is the need of efficient utilization of resources?
Ans1- Developmental needs are more in under developed economy and these are fulfilled with our limited resources.
Value- Critical Thinking
Ques 2. A farmer is getting more profit in producing opium than in production of wheat. In the situation of famine which crop should be produced?
Ans2- Production of Wheat because in the situation of famine, food grain like wheat is required more than opium.
Value- Social Welfare
Ques3. Why has the power crisis increased in India?
Ans3- Because its demand is greater than supply
Value- Awareness about efficient use of power
Ques 4. According to law of demand by increasing the price of a good its demand decreases but in the case of petrol, its demand is increasing with increase in price why? Explain.
Ans4- Now a days petrol has become a necessary good and its supply is limited.
Value- Critical Thinking
Ques5. Inspite of having monopoly, Why the Indian Railway has not increased the fare for many years?
Ans5- Indian Railway is a major public sector undertaking and its main motive is social welfare not the profit.
Value- Social Welfare
MACRO ECONOMICS
Ques1. Why comparing the GDP of various nations might not tell you which nation is better off?
Ans 1- The well being of nation or standard of living of people is measured by per capita income(GDP/ Total Population) and distribution pattern of income not only by GDP
Value- Critical Thinking
Ques 2. Compensation to flood victims is a good social security measure by the Govt. But why it is not included in the estimation of national income?
Ans 2- Because this is a transfer payment
Value- Implement of Knowledge
Ques3. GDP Calculation do not directly include the social costs of environmental damages for example global warming, acid rain. Do you think these costs should be included in GDP? Why or Why not?
Ans 3- Yes because people's well being is affected by these environmental damages.No, it is very difficult to assess real damages in monetary terms.
Value- Awareness about social cost of GDP
Ques4. Why did India devalue its currency in 1991?
Ans 4-India devalued its currency in 1991 to increase the flow of foreign exchange reserve.
Value- Analytic
Ques5. Do you think that a rise in BPO services a good source of supply of foreign currency?
Ans 5- Yes, because it is a export of services and good source of foreign currency.
Value- Critical Thinking
CBSE Value Based Questions for class 12th CBSE
To download sample paper for class 12 Physics, Chemistry, Biology, History, Political Science, Economics, Geography, Computer Science, Home Science, Accountancy, Business Studies and Home Science; do check myCBSEguide app or website. myCBSEguide provides sample papers with solution, test papers for chapter-wise practice, NCERT solutions, NCERT Exemplar solutions, quick revision notes for ready reference, CBSE guess papers and CBSE important question papers. Sample Paper all are made available through the best app for CBSE students and myCBSEguide website.