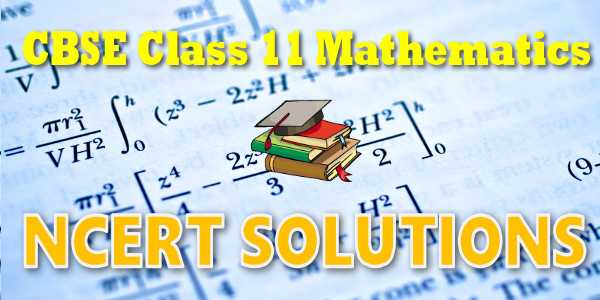 NCERT Solutions Chapter 10: Straight Lines
We are familiar with two-dimensional coordinate geometry from earlier clases. Mainly, it is a combination of algebra and geometry. A systematic study of geometry by the use of algebra was first carrird out by celebrated French philosopher and mathematician Rene Descartes, in his book 'La Geometry, published in 1637. This book introduced the notion of the equation of a curve and related analytical methods into the study of geometry. The resulting combination of analysis and geometry is referred now as analytical geometry. In the earlier classes, we initiated the study of coordinate geometry, where we studied about coordinate axes, coordinate plane, plotting of points in a plane, distance between two points, section formulae, etc. All these concepts are the basics of coordinate geometry.
NCERT Solutions for Class 11th Mathematics
NCERT Solutions Class 11 Mathematics PDF (Download) Free from myCBSEguide app and myCBSEguide website. Ncert solution class 11 Mathematics includes text book solutions. NCERT Solutions for CBSE Class 11 maths have total 16 chapters. Class 11 Mathematics ncert Solutions in pdf for free Download are given in this website. Ncert Mathematics class 11 solutions PDF and Mathematics ncert class 11 PDF solutions with latest modifications and as per the latest CBSE syllabus are only available in myCBSEguide.
NCERT Solutions for Class 11