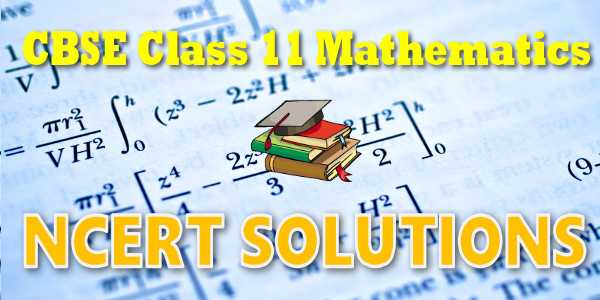 NCERT Solutions Chapter 02: Relations and Functions
Much of mathematics is about finding a pattern - a recognisable link between quantities that change. In our daily life, we come across many patterns that characterise relations such as brother and sister, father and son, teacher and students. In mathematics also, we come across many relations such as number m is less than number n, line l is parallel to line m, set A is a subset of set B. In all these, we notice that a relation involves pairs of objects in certain order. In this Chapter, we will learn how to link pairs of objects from two sets ands then introduce relations between the two objects in the pair. Finally, we will learn about special relations which will qualify to be functions. The concept of function is very important in mathematics since it captures the idea of a mathematically precise correspondence between onequantity with the order.
NCERT Solutions for Class 11th Mathematics
NCERT Solutions Class 11 Mathematics PDF (Download) Free from myCBSEguide app and myCBSEguide website. Ncert solution class 11 Mathematics includes text book solutions. NCERT Solutions for CBSE Class 11 maths have total 16 chapters. Class 11 Mathematics ncert Solutions in pdf for free Download are given in this website. Ncert Mathematics class 11 solutions PDF and Mathematics ncert class 11 PDF solutions with latest modifications and as per the latest CBSE syllabus are only available in myCBSEguide.
NCERT Solutions for Class 11