We have upgraded Test Generator to a new interface. The basic functionality is almost the same but we are rolling out some exciting features and a completely new user interface that will help you manage all your assessments online in minutes.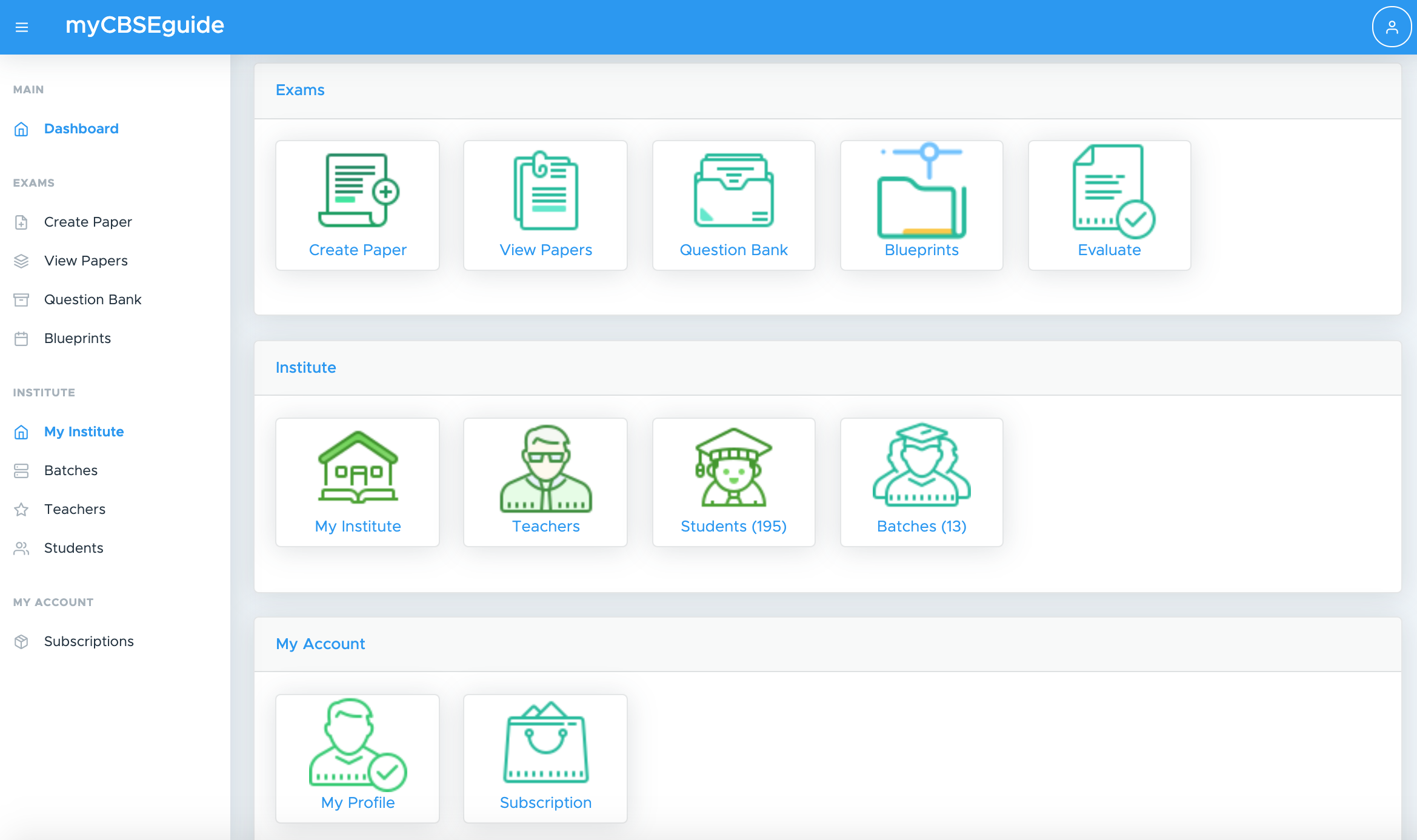 What's New
It is not merely a UI update but we have added many new features and updated the existing ones. Also, some game-changer updates are being rolled out very soon.  Here are some thrilling features that will compel you to give it a start today itself.
Mobile-friendly interface: Now it's easy to create papers on any smartphone.
Easy navigation: Added left sidebar with links to core features.
Android App for students: No more dependency on mobile browsers.
Institute code for better security: Students will enter code to access papers on the mobile app.
No copy paste option during the test: It helps to eliminate the chances to copy the question and search answer on google.
Sharing the quiz link is made simple: Share it directly without a batch or within a batch.
Create batch and add teachers & students: The interface to create a batch and adding students is made easy.
Easy to search question papers: If you have created many papers, it's now easy to search them.
Simpler interface to add questions: The add question option is now better with minimum fields.
Student report card and analysis: Now it's simple to check & analyze individual student performance.
Examin8 App –  How to use
We have launched an android app Examin8 for your students. The beauty of the app is that it becomes absolutely yours once a student enters into it with your institute code. It shows only your Name & Logo and there is no mention of myCBSEguide anywhere in this app. The first screen of the app asks for an Institute Code. This code is available on the home screen of the New Test Generator. Here are the steps to follow:
You need to share the Examin8 App link and institute code with your students.
Students will open the app and enter the code.
As soon as they enter the institute code, the app asks the student to log in.
Students will log in as earlier. They can use login with Email, Google or Facebook.
Now, they will get all the assigned batches on the home screen and attempt the tests.
If you have not created any batch, your students can attempt the tests with an access code.
This access code is available to copy and share within each test that you create.
Examin8 App –  Why to use
Let's discuss why we recommend the Examin8 app for conducting online tests. See, you must have noticed that some students were not able to complete the online tests. Some common issues we found were as below:
The default browsers of some mobile devices especially one country-specific phone browsers were not working properly.
Some students were not able to click the next and previous buttons.
Some students were not able to submit the tests.
In some cases, time was running very fast.
 Some students were not able to use social logins.
Many students were not able to crop and upload images properly.
Subjective questions were difficult to answer.
Some students were copying the question text and searching for answers on google.
If students click the back button of the device by mistake, the test is stopped automatically and students are not able to re-take the test.
So, the Examin8 App is the answer to most of these issues. Here are some key highlights of the app:
Easy to use
Protection from accidental clicks
Easy to upload images
Advanced cropping feature.
Simple Interface
More safe and secure
One-time log in
Optimized Test Interface
No copy-paste option in App
Hence, we recommend you share Examin8 App with your students. If you are using batches, the students will get the tests within the batches automatically and if you are not using batches, you can simply share the access code (given on the quiz page) with your students to attempt the test on Examin8 App.