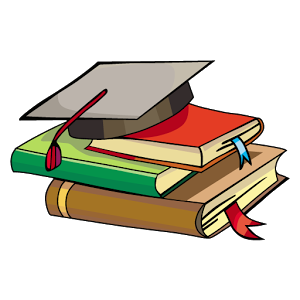 myCBSEguide App
CBSE, NCERT, JEE Main, NEET-UG, NDA, Exam Papers, Question Bank, NCERT Solutions, Exemplars, Revision Notes, Free Videos, MCQ Tests & more.
Install Now
NCERT Solutions for Class 3 EVS Water O Water book solutions are available in PDF format for free download. These ncert book chapter wise questions and answers are very helpful for CBSE exam. CBSE recommends NCERT books and most of the questions in CBSE exam are asked from NCERT text books. Class 3 EVS chapter wise NCERT solution for Science Book all the chapters can be downloaded from our website and myCBSEguide mobile app for free.
NCERT solutions for Class 3 EVS Download as PDF
NCERT Class 3 EVS Chapter wise Solutions
Chapter 1: Poonams Day out
Chapter 2: The plant fairy
Chapter 3: Water O Water
Chapter 4: Our First School
Chapter 5: Chhotus House
Chapter 6: Foods we eat
Chapter 7: Saying without speaking
Chapter 8: Flying High
Chapter 9: Its Raining
Chapter 10: What is cooking
Chapter 11: From here to there
Chapter 12: Work we do
Chapter 13: Sharing our feelings
Chapter 14: The Story of food
Chapter 15: Making Pots
Chapter 16: Games we play
Chapter 17: Here comes a letter
Chapter 18: A House like this
Chapter 19: Our Friends Animals
Chapter 20: Drop by Drop
Chapter 21: Families can be Different
Chapter 22: Left Right
Chapter 23: A Beautiful Cloth
Chapter 24: Web of Life
NCERT Solutions for Class 3 EVS Water O Water
CHAPTER -3 Class 3 EVS Water O Water
1. Which are the planes mentioned in the poem where we find the water?
Ans. (a) River, (b) Waterfall, (c) Lakes, (d) Springs.
---
2. Name any four activities which
(a) You can do without water.
Ans. (a) Speaking, Walking, Reading, Playing. 
(b) You cannot do without water.
Ans. (b) Eating food, Washing utensils, Bathing, Washing clothes.
---
3. Arrange the following on the basis of the amount of water that is needed for each of the activities. Begin with the activity that needs the most water.
Activities: To bathe, to drink, to clean the house, to water the fields, to knead the dough.
Ans. To water the fields, To clean the house, To bathe, To knead the dough, To drink.
---
4. Have you seen hot water coming out of the ground? Where?
Ans. Yes, In Suraj Kund (Haryana).
---
5. Does any river flow through your village or city? If yes, write its name.
Ans. The river Yamuna passed through Delhi.
---
6. Do you know the names of any rivers? Write their names.
Ans. Yamuna, Ganga, Godavri, Satluj, Chenab, Saraswati, Mahanadi, Brahmaputra etc.
---
7. At home, where do you get drinking water from?
Ans. At home, water comes from pipe line.
---
8. Do you have to go far to get water? How much time does it take to bring the water?
Ans. No, In towns, water is supplied to home, but in villages, water is to be brought from distant places.
---
9. Do you neighbours bring water from the same place?
Ans. Yes.
---
10. Are there certain people who are not allowed to take water from there?
Ans. No.
---
11. Why do we need to store water?
Ans. Water is stored so that it can be used in water supply is not available.
---
12. Who fetches and stores water in your house?
Ans. Parents.
---
13. Take a look at the picture. If we fill them with water –

(a) Which will contain the least water?
Ans. Tumbler.
(b) Which will contain the most water?
Ans. Bucket.
(c) How could you tell?
Ans. Tumbler is smaller in size than bucket therefore contains the least water.
---
14. What do you feel? Did Chhutki's glass tumbler have less panna?
Ans. No, Chhutki's glass tumbler did not have less panna.
---
Class 3 EVS Water O Water
15. Given in the grid are some places where water is found. Find seven of them and put a circle around each. One has already been done for you.
Ans.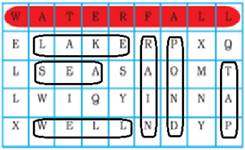 ---
16. In every row put a circle around one that is different from the other. Also tell how it is different.
(i) River, mountain, lake, pond, spring.
Ans. Mountain is not a source of water.
(ii) Bathing, washing, clothes, swimming, combing hair, kneading dough.
Ans. Combing hair does not require water.
(iii) Fish, duck, monkey, crocodile
Ans. Monkey lives on tree.
(iv) Car, boat, bus, train, bicycle.
Ans. Boat runs in water.
NCERT solutions for Class 3 EVS  Chapter 3 Water O Water
NCERT Solutions Class 3 EVS Water O Water PDF (Download) Free from myCBSEguide app and myCBSEguide website. Ncert solution class 3 EVS includes text book solutions for CBSE Class 3 EVS have total 24 chapters. 3 EVS NCERT Solutions in PDF for free Download on our website. Ncert EVS class 3 solutions PDF Science ncert class 3 PDF solutions with latest modifications and as per the latest CBSE syllabus are only available in myCBSEguide.
NCERT Solutions for Science Class 3rd to 12th
CBSE app for Class 3
To download NCERT Solutions for class 3 EVS, Hindi ,English, Maths do check myCBSEguide app or website. myCBSEguide provides sample papers with solution, test papers for chapter-wise practice, NCERT solutions, NCERT Exemplar solutions, quick revision notes for ready reference, CBSE guess papers and CBSE important question papers. Sample Paper all are made available through the best app for CBSE students and myCBSEguide website.
---

Test Generator
Create question papers online with solution using our databank of 5,00,000+ questions and download as PDF with your own name & logo in minutes.
Create Now
---