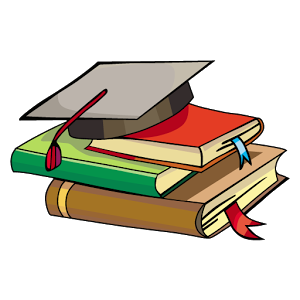 myCBSEguide App
CBSE, NCERT, JEE Main, NEET-UG, NDA, Exam Papers, Question Bank, NCERT Solutions, Exemplars, Revision Notes, Free Videos, MCQ Tests & more.
Install Now
NCERT Solutions for Class 3 English Little by Little book solutions are available in PDF format for free download. These ncert book chapter wise questions and answers are very helpful for CBSE exam. CBSE recommends NCERT books and most of the questions in CBSE exam are asked from NCERT text books. Class 3 English chapter wise NCERT solution for English all the chapters can be downloaded from our website and myCBSEguide mobile app for free.s
NCERT solutions for Class 3 English Download as PDF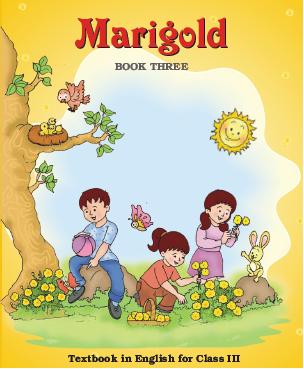 NCERT Class 3 English Chapter wise Solutions
ENGLISH
01 Magic Garden
02 Nina and the baby Sparrows
03 The Enormous trip
04 A little Fish story
05 The yellow Butterfly
06 The story of the road
07 Little Tiger Big Tiger
08 My Silly Sister
09 He is my Brother
10 Ship of the Desert
POEM
01 Good Morning
02 Bird Talk
03 Little by Little
04 Sea Song
05 The Balloon man
06 Trains
07 Puppy and I
08 Whats in the Mailbox
09 Dont Tell
10 How creature move
NCERT Solutions for Class 3 English Little by Little
CHAPTER -3 (POEM) Class 3 English Little by Little
1. Name the tree that the acorn grows into.
Ans. The acorn grows into an oak tree.
---
2. What things does a seed need to grow?
Ans. A seed needs air, water and soil to grow.
---
3. How many describing words can you find in this poem?
Ans. Describing words in the poem are- slowly, improving, deep, sipped, tiny, slender, mighty etc.
---
4. Look at the two pictures. Find four things that are different about these trees and talk about them.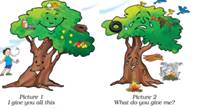 Ans. (i) The picture 1 shows that the tree which gives us many essential things. In contrary, picture -2 shows how we harm the tree in many ways.
(ii) In picture -1, the tree gives us medicines while in picture – 2, we are bringing wood around it.
(iii) The stem and leaves of the tree in picture -1 are smiling whereas these of the tree in picture -2 are sad and weeping.
(iv) The picture -1 shows that the birds are happy in the nest. On the other hand in picture -2, the birds are moving away from the tree due to problems created by the human beings.
---
5. Look at the Picture -1. Write three sentences on what the trees give us.

Ans. (i) Trees give us fruits and vegetables.
(ii) Trees give us fresh oxygen.
(iii) They give wood for shelter.
(iv) They provide us medicines.
---
6. Now look at Picture 2. Write three sentences on how we harm the trees.

Ans. (i) We cut plants for burning.
(ii) We cause pollution by setting up industries.
(iii) We pluck leaves for feeding domestic animals.
(iv) We cut trees to make our houses.
---
7. These words describe parts of a tree. Write them in the given space.
(a) Stem
Ans. It gives us strength to the tree and helps in making the tree stand straight.
(b) Bark
Ans. It is brown coloured part present on the stem.
(c) Leaves
Ans. These are green and many in number. This part makes food in the plant.
(d) Branches
Ans. These are parts emerging from stem on which the leaves grow. Birds make their nests on them.
(e) Twigs
Ans. These are thin, weak branches.
(f) Roots
Ans. These are thin like thread and long parts under the earth which hold the plant in the soil.
(g) Shoot
Ans. The uppermost part of the plant above the soil is called the shoot.
---
8. Match the opposites.
Ans.
| | |
| --- | --- |
| Downward | Upward |
| Slowly | Fast |
| Little | Big |
| Slender | Fat |
| Mighty | Weak |
| Day | Night |
NCERT solutions for Class 3 English poem Chapter 3 Little by Little
NCERT Solutions Class 3 English Little by Little PDF (Download) Free from myCBSEguide app and myCBSEguide website. Ncert solution class 3 English includes text book solutions from Class 3 English Book . NCERT Solutions for CBSE Class 3 English have total 20 chapters. 3 English NCERT Solutions in PDF for free Download on our website. Ncert English class 3 solutions PDF and English ncert class 3 PDF solutions with latest modifications and as per the latest CBSE syllabus are only available in myCBSEguide.
NCERT Solutions for English Class 3rd to 12th
CBSE app for Students
To download NCERT Solutions for class 3 EVS, Hindi ,English, Maths do check myCBSEguide app or website. myCBSEguide provides sample papers with solution, test papers for chapter-wise practice, NCERT solutions, NCERT Exemplar solutions, quick revision notes for ready reference, CBSE guess papers and CBSE important question papers. Sample Paper all are made available through the best app for CBSE students and myCBSEguide website.
---

Test Generator
Create question papers online with solution using our databank of 5,00,000+ questions and download as PDF with your own name & logo in minutes.
Create Now
---