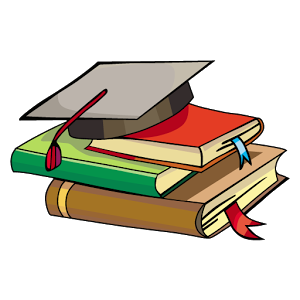 myCBSEguide App
CBSE, NCERT, JEE Main, NEET-UG, NDA, Exam Papers, Question Bank, NCERT Solutions, Exemplars, Revision Notes, Free Videos, MCQ Tests & more.
Install Now
In Sociology, a case study is more like a real-world test of how the implementation works. It is majorly a report of a particular group or an individual. The study helps to collect qualitative and quantitative data in a cost-effective manner. The case study questions for class 12 Sociology would be based on the textbook prescribed by NCERT. Case-based questions will definitely carry a substantial weightage in the class 12 Sociology question paper.
12 Sociology Case Study Questions
What is a case study question? (Sociology)
A hypothetical text will be provided on the basis of which the student is expected to solve the given case-based question asked in the Sociology class 12 exam. Initially, the newly introduced case-based questions created an air of confusion among the students and the teachers. The concept was uncharted territory for all. Case study questions would be centered around any chapter or concept present in the NCERT textbooks. Thus, it is expected from the students thoroughly revise and memorize the key concepts.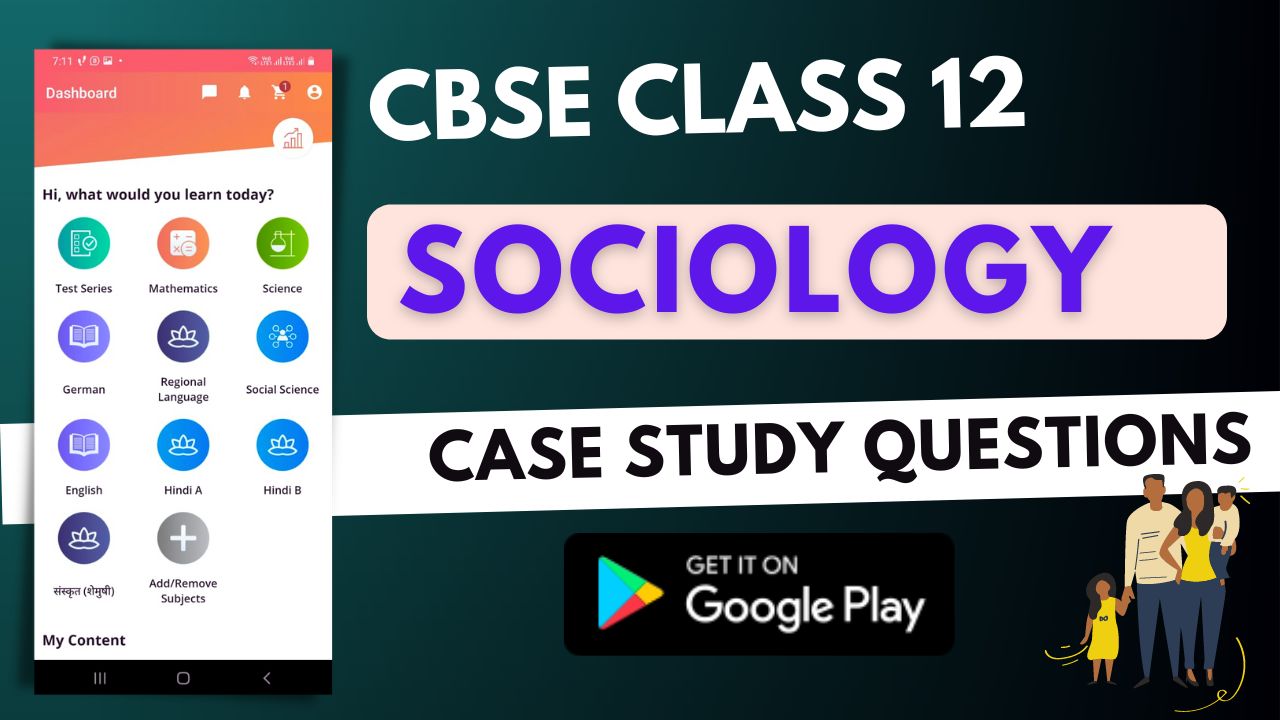 What Is Sociology?
For students appearing for grade 12 CBSE exams from the Humanities/Arts stream, Sociology is a fundamental subject. Sociology is considered to be quite interesting as well as an occupying subject as compared to all other core subjects of the CBSE class 12 Humanities stream. To ace this CBSE exam, students are not only required to work hard but they ought to learn to do smart work too. Sociology is purely theoretical. It is believed to be quite consuming and arduous. Students need to religiously go through their NCERT textbooks in order to ace the sociology class 12 CBSE examination.
CBSE class 12 Sociology
Sociology is an essential component of the class 12 Humanities stream curriculum. In order to excel in this subject, the student needs to have conceptual clarity. CBSE has designed the syllabus for class 12 Sociology so as to enlighten the students with a basic understanding of the complexities of human behavior as well as their interaction
with their corresponding environment. The subject facilitates the beginners to focus on what they listen to and watch around them and thereby develop a constructive attitude towards society.
Case Study Questions in class 12 (Sociology)
Case-based questions have always been an integral part of the Sociology class 12 CBSE question paper for many years in the past. The case studies have always been considered to be challenging for the student because such questions demand the application of their knowledge of the fundamental concepts and principles. Last year i.e- 2021 CBSE decided to alter the question paper pattern for class 12 by giving more weightage to MCQs and questions based on case studies. A few changes were introduced in the Sociology question paper pattern too. Sample question papers were released by CBSE to clear the picture. The students were expected to answer questions after going through a provided comprehensive passage.
According to Dr. Joseph Emmanuel, the Director of Academics at CBSE, the new format would help to drift from rote learning and would test students on their:
Understanding
Writing abilities
interpretations
CBSE not only changed the way case-based questions were formulated but also incremented their weightage in the Sociology question paper. The sole purpose of increasing the weightage of case-based questions in the class 12 curriculum by CBSE was to shift towards a competency-based and skill-oriented teaching and learning system. Dr. Emmanuel focussed on the fact that case-based questions would enhance the critical reasoning skills of the students. He emphasized the fact that adding such questions to the examination was a step toward achieving the goals of the National Education Policy (NEP)2020. He clearly stated that the case-based questions would be predominantly based on real-life situations that we encounter in our day-to-day lives.
Sociology syllabus of class 12 CBSE
The entire Sociology course is divided into 2 parts:
Part A, Indian Society
Part B, Social change And Development In India
The class 12 Sociology board exam is for a total of 100 marks, 80 marks are for the theory and the remaining 20 for the project. Most of the questions are based on the exercises from the NCERT textbook. It is recommended to rigorously go through the contents of the book. There are 2 prescribed books by NCERT for class 12 Sociology.
CBSE Class – 12
Sociology (Code No. 039)
COURSE STRUCTURE
| | | | |
| --- | --- | --- | --- |
| Units | | No. of periods | Marks |
| A | Indian Society | | |
| | 1 Introducing Indian Society | 0 | Non-evaluate |
| | 2 The Demographic Structure of Indian Society | 10 | 10 |
| | 3 Social Institutions: Continuity and Change | 12 | 10 |
| | 5 Patterns of Social Inequality and Exclusion | 18 | 10 |
| | 6 The Challenges of Cultural Diversity | 22 | 10 |
| | 7 Suggestions for Project Work | 10 | Non-evaluative |
| | | Total | 40 |
| B | Social Change and Development in Indian | | |
| | 8 Structural Change | 8 | 5 |
| | 9 Cultural Change | 12 | 5 |
| | 11 Change and Development in Rural Society | 10 | 10 |
| | 12 Change and Development in Industrial Society | 12 | 10 |
| | 15 Social Movements | 18 | 10 |
| | | Total | 40 |
| | Total | 132 | 80 |
Case Study Passage, A Quick Look (Sociology class 12)
As part of these questions, the students would be provided with a hypothetical situation or text, based on which analytical questions will have to be answered by them.
It is a must for the students to read the passage in depth before attempting the questions.
The plot of the question revolves around day-to-day life problems.
The case-based questions can be confusing if not attempted with the right approach.
These questions can be the highest scoring part of the examination if attempted with a rational approach.
In the coming examination cycle (2022-23), case-based questions have a weightage of around 15 to 20%.
These questions can be based on any chapter in the NCERT book for Sociology, grade 12. Students must prepare well for the case-based questions before appearing for their Sociology exam as these questions demand complete knowledge of the various concepts in their syllabus. CBSE plans to increase the weightage of such questions in the upcoming years.
Some important topics for the CBSE class 12 Sociology exam:
Demographic Structure & Indian Society
Social Institutions-Continuity and change
The pattern of Social Inequality and Exclusion
Challenges of Cultural Diversity
Suggestions for Project Work Non-evaluative
Cultural Change
The Story of Democracy
Change and Development in Rural Society
Globalization and Social Change
Social Movements
Kind of case-based Questions in Sociology
Sociology as a subject provides a way of comprehending human relationships and institutions. It is a subject of paramount importance for class 12 students who opt for it from the Humanities stream. It is purely theoretical and fairly scoring. Class 12 Sociology syllabus is quite vast and demanding.
The case-based questions asked in the CBSE Sociology question paper for class 12 are of two types:
As per the latest circular issued by CBSE on Assessment and Evaluation practices of the board for the session 2022-23, CBSE has clearly mentioned that competency-based questions including case studies will be different from subjective questions.
The questions can also be categorized on their difficulty level:
Direct: such questions can be easily solved. Their answer is visible in the given passage itself.
Indirect/ Analytical: such questions are confusing and tricky. These can be solved by the application of the theory or principle that is highlighted in the provided text.
How To Prepare For Case-based Questions? (Sociology grade 12)
Students need to prepare well for the case-based questions before appearing for their class 12 CBSE Sociology board exam. Here are some tips which will help the student to solve the case-based questions at ease:
Read the provided text carefully
Think analytically and focus on the question asked
Critically analyze the given text and then answer the question asked
Practice extensively
One can significantly save time if they follow a reversal pattern, that is going through the questions before reading the comprehensive case study passage.
Answer to the point
Do not jump to the passage for answers directly, think analytically
Eliminating the options that you are sure of being incorrect can increase your chance of being right
One should concentrate on solidifying key fundamental principles/theories
Go through the NCERT textbook in depth. The language used is crisp and simple.
While providing solutions to the case-based question, pick the keyword/keyline based on which you are driving insights.
In order to ace the class, 12 Sociology exam one needs to ignore the shortcut techniques and get to read the NCERT textbooks rigorously. Case studies can be easily solved if your key fundamentals are strong and clear. The best part of having these questions is that the asked question itself projects a hint of its answer. These simple points if kept in mind will definitely help the students to fetch good marks in case study questions, class 12 Sociology.
Remember, answers to social problems can never be straight so you will score better if they are original.
Case study question examples in Sociology class 12
Here are some given case study questions for CBSE class 12 Sociology. If you wish to get more case study questions and other study material, download the myCBSEguide app now. You can also access it through our student dashboard.
Sociology Case Study 1
Read the hypothetical text given and answer the following questions:
The extended family often is seen as symptomatic of India. Yet this is by no means the dominant form now or earlier. It was confined to certain sections and certain regions of the community. Indeed the term 'joint family' itself is not a native category. As I.P. Desai observes, "The expression 'joint family' is not the translation of any Indian word like that. It is interesting to note that the words used for the joint family in most of the Indian languages are the equivalents of translations of the English word 'joint family'."
Q1. What is the composition of a joint family?
Set of brothers with their individual families
More than two generations living together
All of these
Elderly couple with their sons and grandsons
Q2. What is a family in which more than one set of couples lives together is called?
Nuclear family
Extended family
Complex family
Semi-nuclear family
Q3. Which kind of family structure is often seen as symptomatic of India?
Extended family
Nuclear
Social family
Paternal family
Q4. There are certain kinds of changes that change the family structure. Apart from the structure, what else does it change?
All of these
Family norms
Cultural ideas
Family values
Write more paragraphs in the same order here
Solution
(c) All of these
(b) Extended family
(a) Extended family
(a) All of these
Sociology Case Study 2
The social construction of disability has yet another dimension. There is a close relationship between disability and poverty. Malnutrition, mothers weakened by frequent childbirth, inadequate immunization programmes, and accidents in overcrowded homes, all contribute to an incidence of disability among poor people that is higher than among people living in easier circumstances.
Q1. How does disability intensify poverty?
By increasing isolation
By creating social pressure
iii. By making them dependent
By creating economic strain
iii, iv
ii, iii
i, iv
i, ii
Q2. How are the differently-abled rendered disabled?
Socially: Social constructs and assumptions
Poverty: Their economic incapability
Accidently: It occurs due to some accident
Biologically: They are born like that
Q3. Choose the incorrect reason for disability among poor people:
Accident on road
Malnutrition
Frequent childbirth
Inadequate immunization
Q4. Why do you think a disabled person is called a poor thing (bechara)?
To remind them of their poor destiny
Due to the cultural conception and views
To give attention to their helplessness
To accentuate their victim status
Solution
(c) i, iv
Explanation: i, iv
(a) Socially: Social constructs and assumptions
Explanation: Socially: Social constructs and assumptions
3.(a) Accident on the road
Explanation: Accident on the road
(b) Due to the cultural conception and views
Explanation: Due to the cultural conception and views
Sociology Case Study 3
Respecting regional sentiments is not just a matter of creating States: this has to be backed up with an institutional structure that ensures their viability as relatively autonomous units within a larger federal structure. In India, this is done by Constitutional provisions defining the powers of the States and the Center. There are lists of 'subjects' or areas of governance that are the exclusive responsibility of either State or Center, along with a 'Concurrent List' of areas where both are allowed to operate. The State legislatures determine the composition of the upper house of Parliament, the Rajya Sabha. In addition, there are periodic committees and commissions that decide on Center-State relations. An example is the Finance Commission which is set up every ten years to decide on sharing of tax revenues between centers and States. Up to 2017, each Five Year Plan also involved detailed State Plans prepared by the State Planning Commissions of each state. The Goods and Services Tax (GST)Council includes State members.
Q1. What fortifies the institutional structure of the Indian states?
Provisions of powers to legislate on state subject
Constitutional provisions for the powers of the Center
iii. Constitutional provisions defining the powers of the states
Provisions of sharing of tax revenues between Center and States
ii, iii
i, ii
iii, iv
i, iv
Q2. In which of the following subjects State or Center both can legislate?
State
Complementary
Concurrent
Center
Q3.Which of the following determine the composition of the Rajya Sabha?
State Council
Zilla Parishad
Gram Panchayat
State legislatures
Q4. According to the paragraph, which council includes State members in it?
City Council
Finance Council
City Council
Tax Council
Solution
Q1. (a) ii,iii
Explanation: ii, iii
Q2. (c) Concurrent
Explanation: Concurrent
Q3. (d) State legislatures
Explanation: State legislatures
Q4. (a) City Council
Explanation: City Council
Advantages of case study questions in Sociology
Class 12 Sociology syllabus is complex as well as vast and has to be focussed upon as it forms the base for those who are willing to pursue a bachelor's degree in Sociology. Students are supposed to prepare themselves thoroughly from the NCERT textbooks. The Case-based questions prominently focus on the real and current scenarios of the society. Approximately 20% of the question paper will comprise case study questions that demand high-order thinking and reasoning skills from the students. The students ought to practice class 12 Sociology case-based questions from the various options available to them, so as to excel in the subject.
Enhance the qualitative and quantitative analysis skills of students
Provides an in-depth understanding of the social behaviour
Inculcate intellectual capabilities in students
Help students to retain knowledge for a longer period of time
The questions would help to discard the concept of rote learning
Case studies promote and strengthen practical learning.
"Failure is success if you learn from it"
---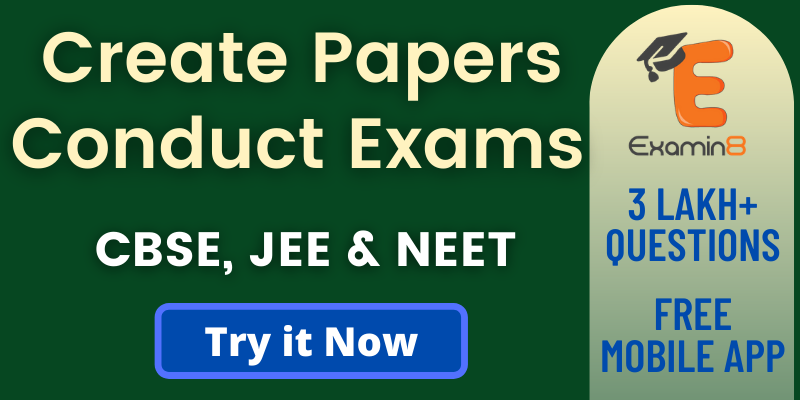 ---