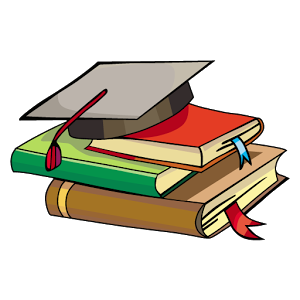 myCBSEguide App
CBSE, NCERT, JEE Main, NEET-UG, NDA, Exam Papers, Question Bank, NCERT Solutions, Exemplars, Revision Notes, Free Videos, MCQ Tests & more.
Install Now
CBSE Question Paper 2011 Class 12 Geography conducted by Central Board of Secondary Education, New Delhi in the month of March 2011. CBSE previous year question papers with the solution are available in the myCBSEguide mobile app and website. The Best CBSE App for students and teachers is myCBSEguide which provides complete study material and practice papers to CBSE schools in India and abroad.
CBSE Question Paper 2011 Class 12 Geography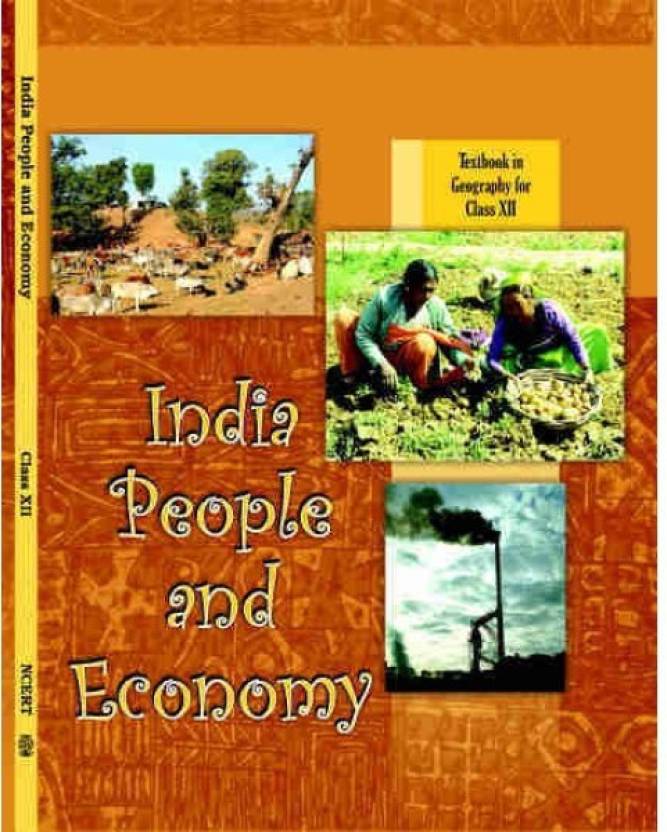 Class 12 Geography list of chapters
Human Geography Nature and Scope
The World Population Distribution
Population Composition
Human Development
Primary Activities
Secondary Activities
Tertiary and Quaternary Activities
Transport and Communication
International Trade
Human Settlements
CBSE Question Paper 2011 Class 12 Geography
GENERAL  INSTRUCTIONS :
There are 26 questions in all.
All questions are compulsory.
Marks for each question are indicated against it.
Question numbers 1 to 10 are very short answer questions carrying 1 mark each. Answer to each of these questions should not exceed 20 words.
Question numbers 11 to 20 are short answer questions carrying 3 marks each. Answer to each of these questions should not exceed 80 words.
Question numbers 21 to 25 are long answer questions of marks each. Answer to each of these questions should not exceed 150 words.
Question number 26 is related to identification or locating and labelling of geographical features on maps.
Outline maps of the World and India provided to you must be attached within your answer book.
Use of templates or stencils for drawing outline maps is allowed.
---
1. Which continent has the highest growth rate of population?
2. Which country has the lowest sex ratio in the world?
3. Name the two activities on which the earliest human beings were dependent for their sustenance.
4. What is a household industry?
5. Give the significance of river St. Lawrence as an inland waterway.
6. Give the meaning of human settlement.
7. What is the contribution of India in the production of rice in the world?
8. Name the first major seaport of India developed after independence.
9. Which sector of economy accounted for the highest percentage of India's total value of exports in 2003-2004?
10. Name the two metropolitan cities which are the main polluters of river Ganga before it reaches Varanasi.
11. Explain the concept of determinism' with suitable examples.
12. Divide the population of the world into two groups on basis of residence. How do they differ from each other? Explain any two points of difference.
13. What is the importance of'dairy farming'? Why is it mainly practised near urban and industrial centres of the wor1d? Explain any two reasons.
14. Study the table and answer the questions that follow:
World Imports and Exports (in millions ofU.S. $)
1955

1965

1975

1985

1995

2005

Exports

Total Merchandise

95,000

1,90,000

8,77,000,

19,54,000

51,62,000

1,03,93,000

Imports

Total Merchandise

99,000

1,99,000

9,12,000

20,15,000

52,92,000

1,07,53,000
(14.1) Which decade shows the highest increase of total value of imports and exports of goods and services?
(14.2) How much is the increase in total value of exports during 1955 to 2005?
(14.3) Why does the need for trade arise?
Note: The following question is for the BLIND CANDIDATES only, in lieu of Q. No. 14:
What is international trade? Why does international trade exist? Explain.
15. Mention the famous oil pipeline of the U.S.A. How are pipelines one of the most convenient mode of transport? Explain any four points.
16. Why are ports ca11ed'gateways of international trade'? Explain any three reasons.
17. Explain any three factors that determine the type of rural settlements in India.
18. Study the given diagram and answer the questions that follow: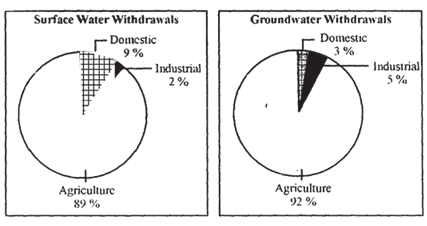 (18.1 ) Which sector accounts for most of the groundwater utilisation? Give one reason.
(18.2) Why is the share of water utilization in domestic sector lower in groundwater as compared to surface water?
Note: The following question is for the BLIND CANDIDATES only, in lieu of  Q. No. 18 :
Why is the demand of water for irrigation increasing day by day in India? Explain any three reasons.
19. Explain any three major objectives of the 'New Industrial Policy' of India, which was announced in 1991.
20. Describe any three major problems related to water in India.
21. "Services are very important aspect for economic development of a country." Analyse the statement by explaining five components of a service sector.
22. What are rural settlements? What are the two types of the rural settlements in the world? How are they different from each other? Give three points of distinction.
23. Explain with examples the occupational structure of India's population.
24. Describe any five major problems related to Indian agriculture.
25. Definetheterm'RoadDensity'. Explain with examples the two main determinants of road density in India.
26. (26.1) In the given political Outline Map of the World, the following four features are shown:
(A) The major area of commercial livestock rearing. (B) The major Sea Port: (C) The major AirPort. (D) The Mega City
Identify these features and write their correct names on the lines marked near each feature.
(26.2) In the given political Outline Map of India, locate and label the following with appropriate symbols:
(i) The State having lowest density of population. (ii) The oil refinery located in West Bengal. (iii) The major seaport located in Goa.
Note: The following questions are for the BLIND CANDIDATES only, in lieu of
Q. No. 26
(26.1) Name any one major seaport located on the western coast of North America.
(26.2) Name the coastal Megacity of Brazil.
(26.3) Which state of India has the lowest density of population?
(26.4) Name the oil refinery located in West Bengal.
(26.5) Which is the major seaport in Goa?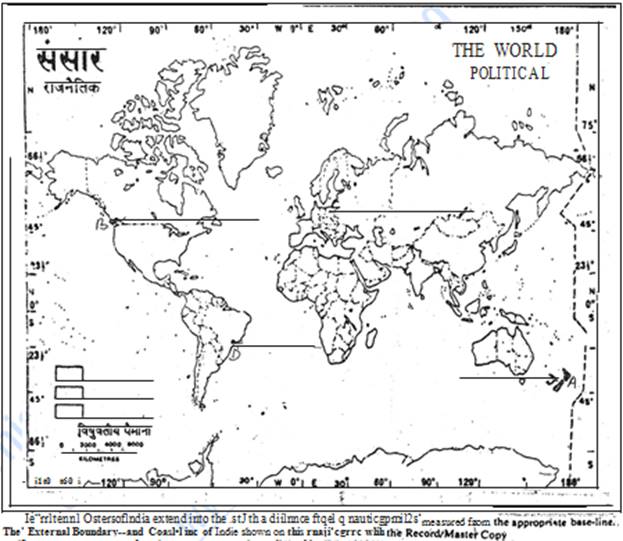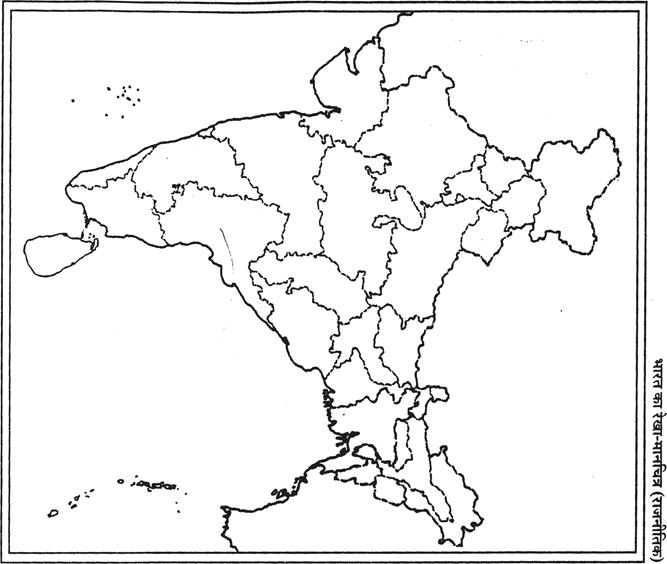 These are questions only. To view and download complete question paper with solution install myCBSEguide App from google play store or log in to our student dashboard.
Last Year Question Paper Class 12 Geography 2011
Download class 12 Geography paper with the solution from best CBSE App the myCBSEguide. CBSE class 12 Geography question paper 2011 in PDF format with the solution will help you to understand the latest question paper pattern and marking scheme of the CBSE board examination. You will get to know the difficulty level of the question paper.
Previous Year Question Paper for class 12 in PDF
CBSE question papers 2018, 2017, 2016, 2015, 2014, 2013, 2012, 2011, 2010, 2009, 2008, 2007, 2006, 2005 and so on for all the subjects are available under this download link. Practicing real question paper certainly helps students to get confidence and improve performance in weak areas.
To download CBSE Question Paper class 12 Accountancy, Chemistry, Physics, History, Political Science, Economics, Geography, Computer Science, Home Science, Accountancy, Business Studies, and Home Science; do check myCBSEguide app or website. myCBSEguide provides sample papers with solution, test papers for chapter-wise practice, NCERT solutions, NCERT Exemplar solutions, quick revision notes for ready reference, CBSE guess papers and CBSE important question papers. Sample Paper all are made available through the best app for CBSE students and myCBSEguide website.
---

Test Generator
Create question papers online with solution using our databank of 5,00,000+ questions and download as PDF with your own name & logo in minutes.
Create Now
---